About Us
* Fox Mountain Camping Park Inc. is family owned/operated with a laid back atmosphere.
* We have large serviced and unserviced campsites, trailer rentals and Seasonal spots available.
---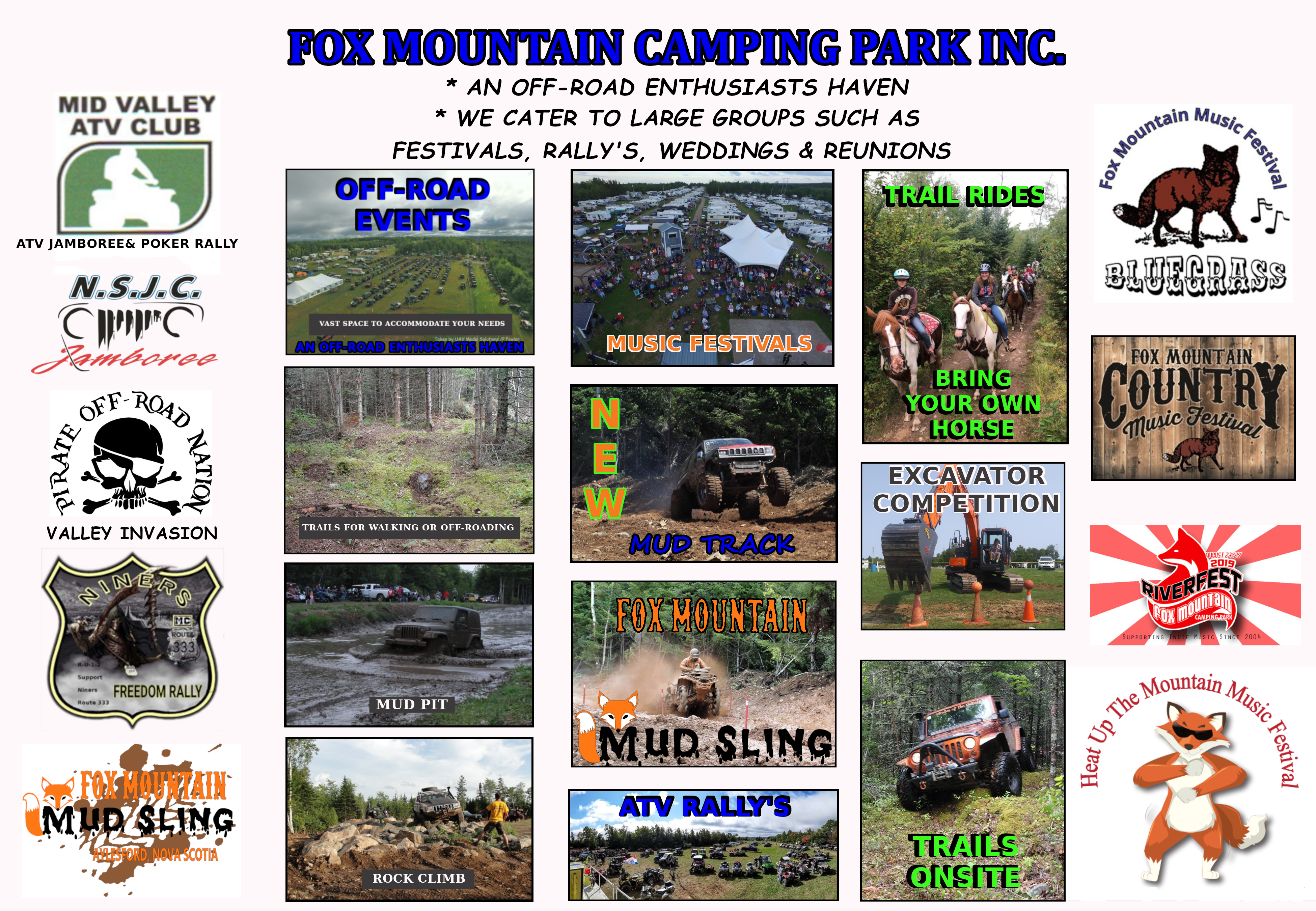 Free WiFi!!
Flush Toilets and Hot Showers
Fire pits, picnic tables, washer toss games available
Pet friendly
---
* Also, Fox Mountain Camping Park Inc. caters to Large or Small Organized Groups.
We host Festivals, Weddings, Family Reunions, Horse/rider gatherings, Off Road Events/ Rallys etc.
---
We offer:

  
Large Stage Area for entertainment (Band, DJ, etc.)
Areas for Horse tie up
Guided Horse Trail Rides
Walking Trails on site
Canteen and Shuttle Services available during events/festivals
Off-Road Haven: Trails, Mud pit, Mud track, and rock climb on site for off-road events
ATV trails and fire roads near by
Located near Aylesford Beach, Lake George Beach and the Bay of Fundy
---
Fox Mountain Camping Park Rates

Campsites:
(Prices vary.  Rates apply during non-event times)
Serviced sites include water, power, sewer $45/night (incl. tax)
Non serviced- rough camping $40/night (incl. tax)
Seasonal Lots:



Currently seasonal lots available!
Lot sizes vary depending on park location.
Price: $1800 + tax/year  (see options below)

Option 1:
30 amp serviced lot, separate power bill in your name, water and sewer included.
Option 2:
15 amp serviced lot, power included for $20+tax per month, water and sewer included.

---
Trailer Rentals:
Clean, Convenient, and Rustic ….
"They're not the Ritz, but will keep you warm and dry."
 Guests need to bring their own bedding, pillows, and toiletries.
Each trailer has basic dishes and a pot/pan or two.
Pricing varies.  Contact  902-847-3747 for details
 Rental Descriptions:  
(click here for details and pics)

---